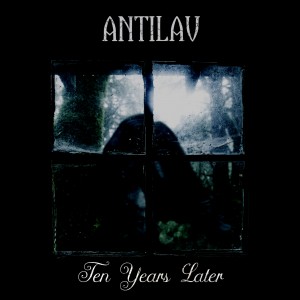 Ten Years Later is the second album of Antilav. It can be called a conceptual one, but this is not its main feature. The project has gone the path from typical for those times energetic gothic electro to more complicated and meditative tracks with melancholic-nostalgic vibe. Of course, now such stuff has a very narrow audience, but that's what we like to review). On the other hand, the release is recognisable by its sources of inspiration, and it is consistent in its emotional messages to a potential listener.
Here one can't do without an atmospheric intro, followed by one fo the key tracks of the longplay – Love Will Never Die, with a beautiful vocal line and a classical approach to the genre (this is probably why this track has strong associations with early Infernosounds). Fall Down slightly changes the story with the sound of dark electro and EBM. In contrast, No Hope Left is an insinuating, almost 'transparent', timeless ballad. Going Down returns to gothic electro/EBM/TBM again, whereas Wings of Love shows more features of the modern dark pop trend. Walking on My Own is definitely one of the powerful tracks by Antilav, good arangement, good combination of vocal lines, recognisability and originality within the chosen style. Falling Snow is closer to future pop/synthpop. Stay with Me is made in absolute L'ame Immortelle theme, and here it is an advantage, because, firstly, it suits Antilav, and secondly, the later L'ame Immortelles lacks this.
At the end of the album, Roses on Her Grave is like a generalisation of all the gothic electro hits of the 2000s, which immediatly evokes some echoes and memories, followed by the concluding track Outro.
Again, the album is for the currently narrow audience of the dark scene. This is why it is now valuable – such stuff is now rarely created by anyone, even by those who rose on it and became popular. Ten Years Later is able to evoke warm memories, a bit of melancholy, but there is also a place of something new. 8/10